All 20 teams in the Premier League will play simultaneously on May 22, the last day of the 2021-2022 season. Of the 10 matches, which will kick-off at 8:30pm IST, at least eight, remarkably, will have an impact on either the title race, relegation or European qualification. Here is a quick guide on a few things to remember as we go into what is likely to be a hectic and dramatic final day.
Manchester City vs Aston Villa: Redemption for "Slippy G"
On April 27, 2014, in the third-last match of the 2013-2014 season, against Chelsea, then Liverpool captain Steven Gerrard slipped near the halfway line while receiving a pass. Gerrard was playing as a holding midfielder and had dropped in between the Liverpool centre-backs; so he was the last man in the team's defensive line.
Even as the home crowd gasped in horror, Chelsea striker Demba Ba was away with the ball. Gerrard and the two centre-backs chased back, but there was no catching the long-legged Senegalese. He finished calmly to give Chelsea the lead and the Blues went on to win 0-2.
The result handed the momentum to Manchester City in a closely fought title race and, effectively, gifted them the title. Gerrard's slip is now seen as the defining moment of the season. "I am gutted for the fans," said Stevie G, as Liverpool fans affectionately call him, after City were officially crowned. Rival fans, as expected, showed no respect for the Liverpool legend or his pain, even dubbing him "Slippy G".
Eight years later, the former Liverpool No 8 has a shot at redemption. As another City-Liverpool title race goes down to the wire, Gerrard will travel to Manchester as the manager of Aston Villa. The team from Birmingham, currently 14th in the 20-team league, have shown real grit since Gerrard took over in the winter. If Gerrard's boys manage to beat or hold City, who lead by just one point, his boyhood club will be in with a chance of snatching the title from the Manchester club.
Liverpool vs Wolverhampton Wanderers: Wolves on the prowl
For that to happen, Liverpool must win at home against Wolves. It is not as straightforward as it sounds. The last time the two teams played, Liverpool had to wait till the 94th minute to find a winning goal. Not to mention, there is absolutely no pressure on Wolves as they have nothing but pride to play for.
Liverpool has done remarkably well recently, under the mounting pressure of going for an unprecedented quadruple of trophies—it already has two in the bag and is playing Real Madrid in the Champions League final on May 29. But, in the Premier League, all it takes is one mistake, especially against a team with the counterattacking capability of Wolves.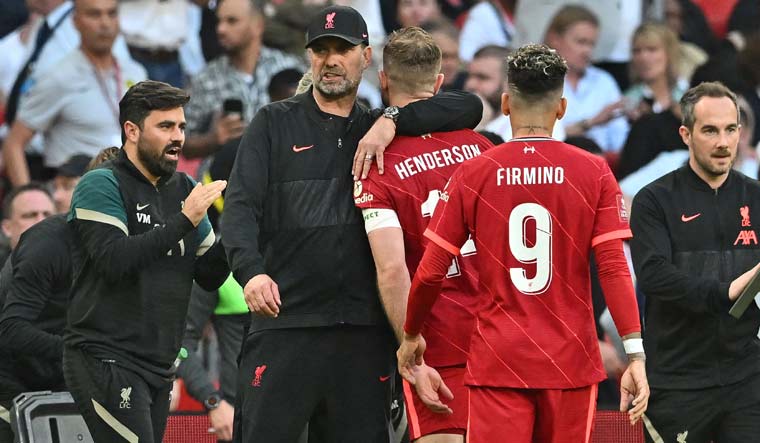 The bottlers battle for Champions League qualification
Surely, fourth-placed Tottenham Hotspur cannot lose to the bottom-club Norwich City. Spurs lead fifth-placed London rivals Arsenal by two points and unless they succumb to a shock defeat away at Norwich, they will finish in the final Champions League position. But, with Spurs, you just never know. And Arsenal has benefited more than once from the collapse of Spurs.
In 2006, they had lost fourth place to Arsenal on the final day when an illness hit the squad. And, in the 2015-2016 season, Spurs, were the closest challengers to unlikely league champions Leicester City. On the final day, they needed only a draw to finish second and, significantly, above third-placed Arsenal for the first time since 1995. But, they lost to Newcastle United and Arsenal leapfrogged them again.
While Arsenal will be hoping that Spurs choke again, they find themselves in this position only because of two back-to-back losses. It would be typical of the two famous bottlers of London if Spurs lose and then Arsenal also lose, to Everton at home, and allow Spurs to qualify for the Champions League.
Legacy vs Ambition: The Europa League bid
Torture. One word that sums up the season for Manchester United fans. After the club's worst ever season in the Premier League, the best the Red Devils can hope for is a sixth-place finish and qualification to the Europa League. They currently have a two point advantage over West Ham United.
The Hammers will be hoping that fellow Londoners Crystal Palace can get a result against United. Even a draw would do as long as West Ham beat Brighton & Hove Albion away because the London club has a better goal difference than United.
For United fans, even Europa League qualification is an embarrassment. Finishing seventh would bring back the horrors of the first season post Sir Alex Ferguson, when United, the reigning champions, nosedived to seventh under current West Ham boss David Moyes.
Moyes has built his career back up after his dismissal from the United job and he has a bone to pick with his former employer. At West Ham, he has found a club with the ambition that United, still milking legacy, lacked.
The relegation battle: Survival of the toughest
Burnley is 17th with 35 points and a goal difference of -18. Leeds United is 18th, also on 35 points, but with a goal difference of -38. So, the equation is simple. If Burnley win, Leeds go down. But, that is easier said than done because Burnley welcome Newcastle United who are coming of the back of a 2-0 win against Arsenal.
Leeds travel to Brentford, now driven by the brilliance of midfield maestro Christian Eriksen, who seems to have recovered fully from his cardiac episode at Euro 2020. Leeds have to win and hope Newcastle can get at least a draw against Burnley, but is missing several key players. Striker Patrick Bamford is believed to be close to recovery, but he has not played since March and bringing him back for such a big match seems like a risk. But, it is a risk Leeds will have to take as Bamford is their biggest goal threat.